Aiwejay has always been committed to bringing appropriate oral health care to users, especially for women's sensitive oral environment, and launched the Ladies Sonic Toothbrush S1. The editor will introduce this Aiwejay electric toothbrush specially designed for women. The classic model S1.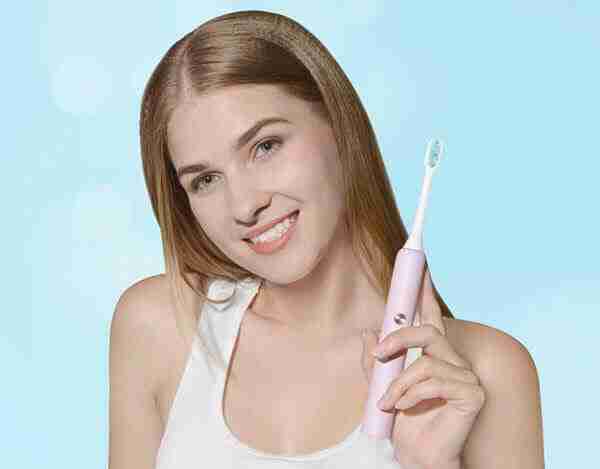 For women, teeth and gums are more sensitive than men's, so women should consider women's perspectives when choosing electric toothbrushes. Aiwejay has specially designed a sonic electric toothbrush for women, which can better care for women's Oral health makes women smile brighter.
Aiwejay's Ladies Electric Toothbrush S1-Slim Body
1. Ergonomic design
Mainly slim body, small body, small and slender, light and luxurious texture aluminum alloy buttons, professionally designed for women.
The new generation of small 16mm sonic motor has strong and stable power, magnetic levitation sonic motor, continuous power output, exquisite metal movement, quality assurance.
2. Appearance ladies design style
S1 electric toothbrush main: pearl white / cherry powder, two kinds, two colors. The fresh colors and sophisticated appearance left a good first impression on the author. The shell of the toothbrush handle is made of skin-friendly material, and it is very textured and has a certain anti-slip effect after being frosted.
3. Soft DuPont brush wire, suitable for female oral cavity
Each brush head of the toothbrush uses DuPont silk, which is also known as the Hermes of the bristles. From the side of the brush head, each brush head is round, so that the brush head will not cause damage to the gums when brushing teeth, and better care for the oral cavity of girls. The bristles are arranged in a certain arc, which ensures that the bristles are in better contact with the tooth surfaces, so as to achieve a better cleaning effect without leaving dead ends.
4. Copper-free hair planting technology:
As an electric toothbrush specially designed for women, it adopts healthy hair planting technology
High-standard new hair-planting technology protects your health from the root of the brush head. At present, most electric toothbrushes on the market use the traditional metal flake hair planting technology*. The planted pores are not completely sealed, and they are in direct contact with water and toothpaste for a long time, which is prone to chemical reactions and rust. Using this type of toothbrush, the accumulation of heavy metals over time can easily damage human health. Learn more: Electric toothbrush without metal bristles
5. Ladies electric toothbrush parameters:
Material: ABS, American DuPont wool
Core technology: USB Type-C charging interface, sonic vibration motor
Waterproof grade: IPX7 grade
Charging time: 3 hours
Battery capacity: 800mAh
Use time: about 30 days of battery life
Available Colors: Pearlescent White/Sakura Pink
Net weight of toothbrush: 102g
6. The product list includes:
Sonic electric toothbrush host ×1
USB Type-C charging cable × 1
Toothbrush Wall Mount × 1
Bright white brush head ×1
Product manual × 1
Well, that's Aiwejay's introduction on how to build a women's electric toothbrush.
As a leading electric toothbrush manufacturer in China, Aiwejay develops fashionable and healthy electric toothbrush products for different groups of people. Provide electric toothbrush OEM customized OEM.